Delta 8 Gummies Wholesale Products - Bulk Edibles
Are you looking for a high-quality, legal source for hemp-based gummies? We are a B2B wholesaler for Delta-8 THC edibles and can help retail businesses sell to their customers.
Why Buy D8 Wholesale Products From Dharma
Our wholesale program provides the opportunity to buy Delta 8 gummies in bulk and resell them at retail prices. The best part is that our products are derived from industrial hemp and are legal in most US States! If this sounds like something you're interested in, click here to apply to become a wholesaler so you can learn more about how we work with retailers who want to make extra profit on their end by wholesaling our products!
We are gummy candy cannabinoid product specialists
D8 THC products come in many varieties, from gummy candies to caramels and more. You can even find Delta-8 cookies on the market today for those who prefer an indulging way of consuming their favorite psychoactive!
| | | |
| --- | --- | --- |
| | Other manufacturers | Dharma Isomers |
| Legal products to sell | Common for 3rd party lab tests reveal too high on Delta-9 THC, which could put you and your customers in legal troubles | at or below the .3% Delta-9 THC threshold mandated by federal law, as proven on 3rd party lab tests available online |
| Product Options | limited | many options, including, proprietary nano Delta-8 water soluble formula unique to only us |
| Experience | Inconsistent product oftentimes | Word-class customer support to help you throughout the entire process |
Dharma Isomers has spearheaded the new Delta-8 industry and continues to make our mark in these unprecedented times.
We are the first to offer Delta-8 (D8) water soluble tinctures which utilize state of the art nanotechnology for improving bioavailability up to 980% faster than leading brands, which is unheard of in this new industry. This nano-tech is used for our nano gummies, too.
Dharma offers wholesale orders for those looking to enter the market as well as connect you with private labeling opportunities if you want your own brand of these amazing THC hemp gummies!
Our selection includes bulk orders, potent edibles, and a variety of flavors for your customers to enjoy!
We are the D8 gummies manufacturer and Delta 8 (D8) edibles are our specialty.
D8 gummy candy can help your customers with getting a legal high while also providing many health benefits that come only from the industrial hemp plant!
As a natural hemp company, we want to earn your business to serve as your hemp vendor. All of our edibles are sourced from US-grown hemp -- not the cannabis plant. We specialize in full-spectrum hemp products to serve the hemp edibles market. Our products include a variety of hemp flowers, gummies and more!
Our Products are known to provide the following effects:
euphoric effects
psychoactive effects
therapeutic benefits
For a longer-lasting effect, try our products utilizing proprietary nanotechnology.
What are Delta 8 (D8) Edibles Bulk Products?
All-natural, hemp-derived Delta-8 wholesale products are the legal THC products purchasable for resell in most states. The natural hemp derivative Delta-8 THC became legal due to the passage of the 2018 Farm Bill which also led to the CBD Boom. Since there are many intricacies of hemp cannabinoids, we want to provide the best information available to help keep you legal while you're able to resell these types of products
Industry experts believe that the hemp-derived cannabinoids area of the legal cannabis market is just beginning. Dharma is setting the industry standard for quality products, and now is a great time to be a part of the new Green Rush.
With the use of these psychoactive cannabinoids, we are able to bring you some of the finest Delta-8 THC products on the market today so you can resell to your responsible adult customers and earn profits during this stage of the Green Rush!
Show me the edible products?
Edible products consist of Delta 8 wholesale ingredients which are mostly natural ingredients, and we're always working on providing you with an abundance of flavors for new product options. The most powerful ingredients are the cannabinoids, and those amounts differ per product though can all be found on the third party lab reports.
Gummies
You might've already heard about our Delta 8 gummies on Reddit, and now is the time to consider reselling them to your customers. Our 20 mg Delta 8 gummies have been nanoed for improved bioavailability. For your customers that are sensitive to the psychotropic potency, simply suggest taking half the gummy candy for half of the effects.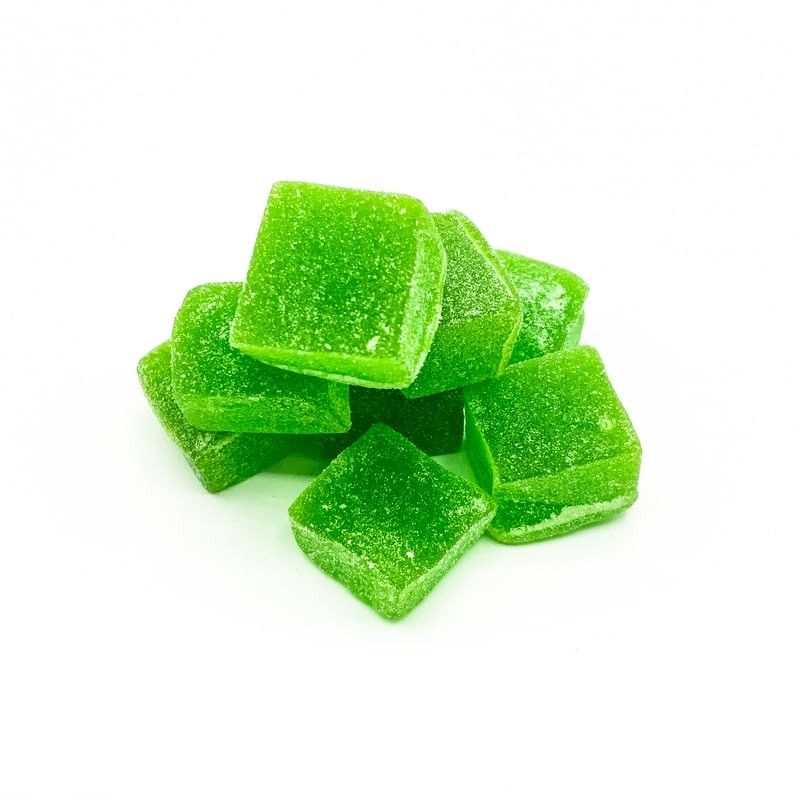 Gooey Caramels
Our Delta 8 caramels contain 20mg of D8 per serving. Take one half to one whole caramel, depending on your tolerance level.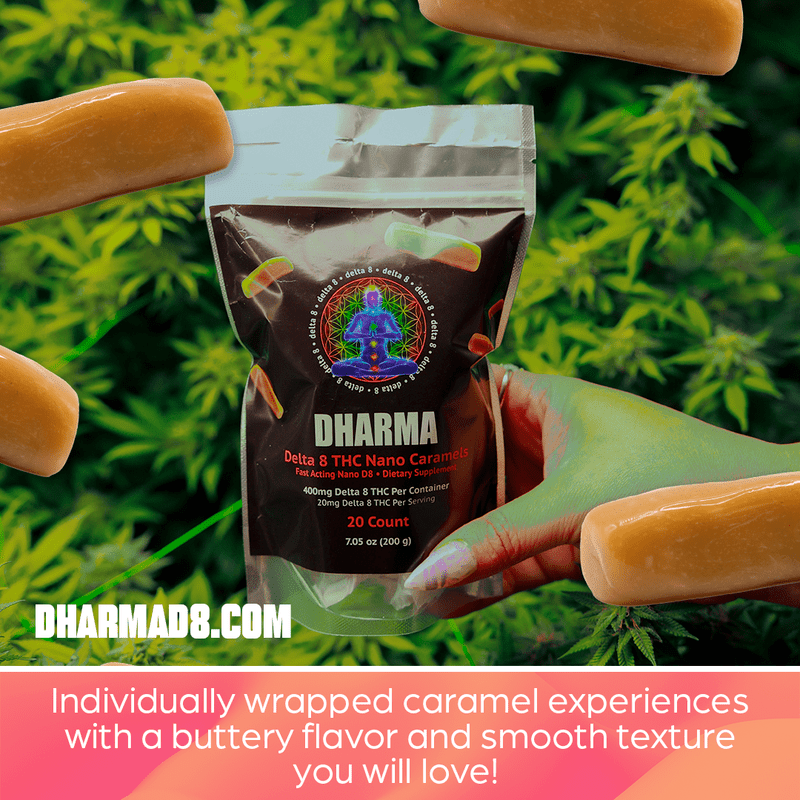 Crispy Cereal Treats
For the cereal crispy treats, we offer fruity pebbles edibles for the D8 cookie lovers. For serving amounts, take one half to one whole crispy treat, depending on your preference.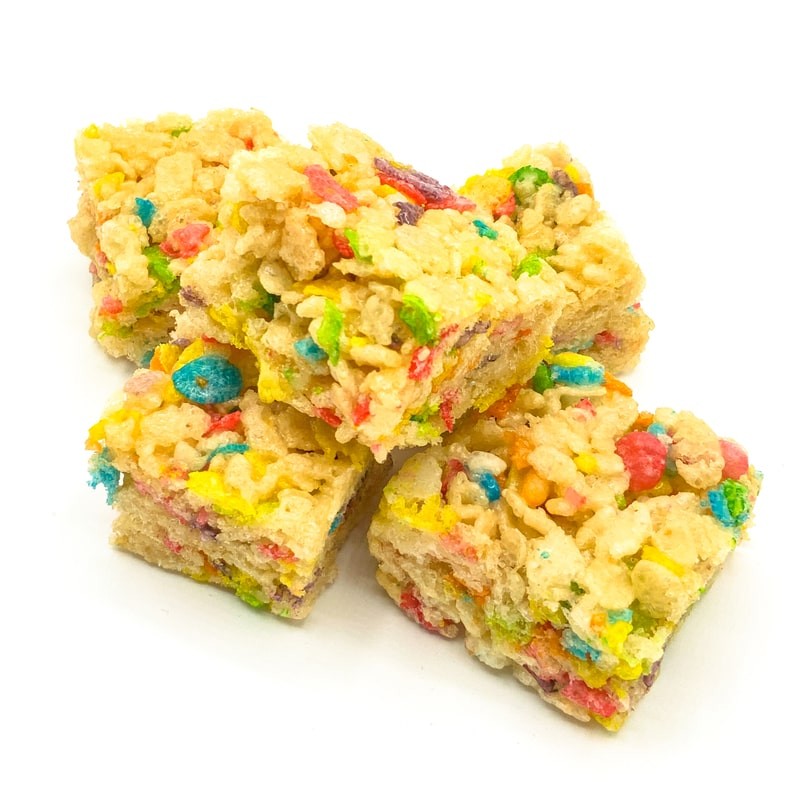 New D8 Honey Sticks
Consider a natural, sweet gooey substitute with our honey sticks. If you haven't tried them yet, you're sure to love the new Delta 8 honey sticks made with hemp extract are now available. Reach out for new wholesale pricing!
Other Unique Products
D8 THC products come in many forms with typical MSRP being at market rate, along with 50% off for registered wholesalers with Dharma D8. We also are open to white label and offer private labeling when the need arises (ask your wholesale rep for details).
Delta 8 Pre-Rolls Wholesale
We get asked often, and we do offer Delta 8 pre rolls for resellers. Just reach out to us for wholesale pricing, if you're interested.
Delta 8 Flower Wholesale
If you're looking for just the D8 flower, we also offer that for wholesale, too. Again, just reach out for the latest wholesale pricing information.
D8 Full Spectrum Oil
Our water soluble Delta-8 oil provides versatility for users to add drops to any drink rather than being required to take sublingually (under the tongue). Available in both 5mL or 15mL options which provides options to the user to try and enjoy.
Delta 8 Gummies Wholesale Products
Buy wholesale Delta 8 THC gummies with Dharma and be the provider of reselling nano gummies with 20g of D8 per gummy. Our delta 8-infused gummies have become a customer favorite, as we're the company which offers the 20mg nano Delta-8 gummy which provides a quicker onset with long-lasting effects for the user's experience. If you want to know how long does a Delta 8 gummy last usually, it can last three hours with an onset of 15 minutes (or less with our gummies). D8 candy tasty gummies come in many forms, but you won't find a more effective gummy candy on the market!
D8 gummies are just one of the many wholesale edible products we offer at Dharma. As a supplemental dietary product, customers continue to choose the Dharma brand for their trusted source of psychoactive cannabinoids.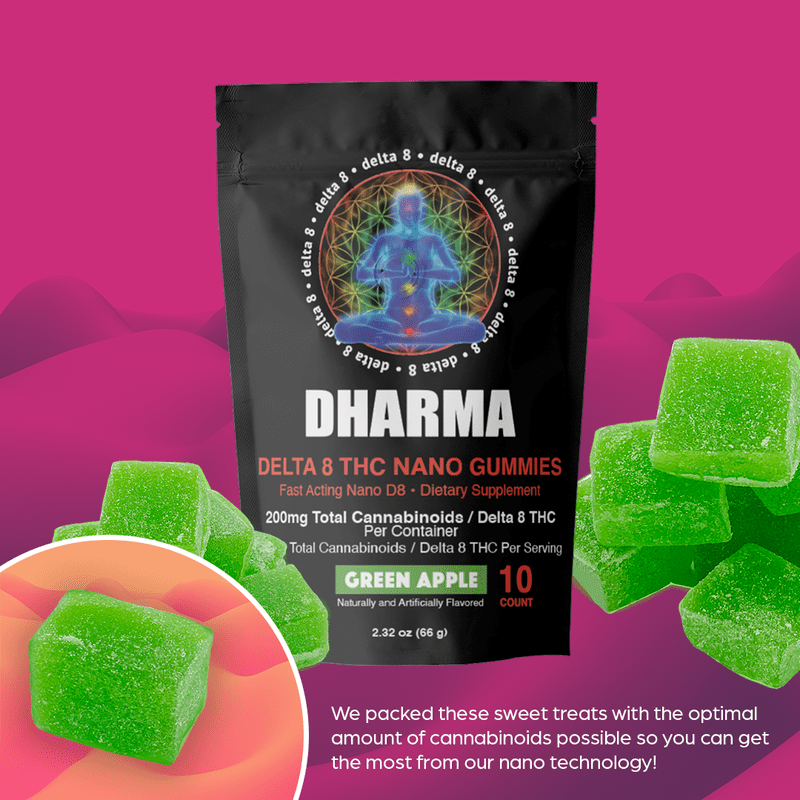 What are the strongest D8 gummies?
The nano Delta-8 gummies are the strongest, most bioavailable gummies on the market today. Our D8 THC gummy candies provide the following:
20 mg of nanoed Delta 8 per gummy
Green Apple delicious flavor available in 5 count or 10 count
Gummies contain nanoed Delta 8 oil before candy processing
Gummy product options are perfect for the mass market as they offer a measured serving amount of the psychoactive ingredient while being able to be used discreetly.
How much of a Delta 8 Edible should I take?
The serving amount differs per product, but below is a guideline for helping to choose the right amount of the edible for consumption.
THC Gummies For Sale
Legal THC gummies for sale can be yours when you order in bulk. Reach out to us for wholesale pricing.
What is THC?
THC is short for Tetrahydrocannabinol, which is a naming convention short for the many varieties of THC cannabinoids contained in industrial hemp. The two main types of THC in hemp are Delta-9 THC and Delta-8 THC.
What's the difference between Delta-9 THC and Delta-8 THC?
THC hemp extract exists naturally as a compound in marijuana and as a natural compound in hemp. There is only a minor structural difference between the two, though Delta-8 from hemp is now federally legal.
The hemp extract ofDelta-8-Tetrahydrocannabinolis a psychoactive cannabinoid found in the industrial hemp plant, and similar to the psychoactive component found in medical cannabis, Delta-9 Tetrahydrocannabinol (regular Delta-9 THC), and this particular cannabinoid will get you high, but it is also federally legal.
The legal cannabis industry is constantly changing and laws on hemp differ sometimes at the state-level. The difference in legality only pertains to hemp-derived Delta 8 THC because HHC cannabinoids are legal nationwide.
The Dharma D8 Guarantee
We standby our products being federally legal, which means we carefully monitor the Delta-9-THC (δ9-thc) levels to not exceed the federal limit so you can rest assured a Dharma D8 product continues to be a legal, effective product for your return customers. Delta-8-THC (δ8-thc) is legal in most states, however some state laws do prohibit the sale and possession of products not yet evaluated by the Food and Drug Administration (FDA).
Labeling requires us to provide you and your customers with a scannable QR code for you and your customers to access third party lab reports. Pertinent details such as ingredients can also be found on the label. Wholesale pricing is available for registered wholesalers.
Drop your info below and we'll send you out a sample of our newest product 20mg nano delta-8 gummies. We offer personalized customer service, and look forward to assisting you. To learn more about our process, team and line of premium products, please contact us and we'll be happy to assist you.
How can I buy D8 at wholesale prices?
Receive 50% off retail pricing when you buy your D8 Gummies with us! You can contact our team to learn more about how you too can get gummies wholesale pricing!
How can I become a D8 Wholesaler?
To become a wholesaler, simply apply to become a wholesaler here.
The statements made regarding these products have not been evaluated by the Food and Drug Administration. The efficacy of these products has not been confirmed by FDA-approved research. These products are not intended to diagnose, treat, cure, or prevent any disease. All information presented here is not meant as a substitute for or alternative to information from health care practitioners. Please consult your health care professional for doctor's advice about potential interactions, prescription medications or other possible complications before using any product. The Federal Food, Drug, and Cosmetic Act requires this notice. Consult your doctor for any medical condition or serious medical condition.
Wholesale Edible Product Reviews
Below are some of the recent reviews from our newest customers.